Quality & Choice
Whether you are looking for light-bodied table wines or want to spend a long time lovingly crafting and aging your wines, we have the products for you. You will find a wide range of wine styles to choose from, and we offer dessert, port, and other specialty wine kits as well. You'll find everything you need to make top quality wines, all at a fraction of retail pricing.
You can also choose to make your wines in our state-of-the-art winery facility. See In-Store Winery page for full information.
Wine Styles
Enjoy perusing the list below, and remember that there are often exciting changes and additions to our product lines. Be sure to visit us regularly at Wine Kitz Miramichi – here or in person – for the latest!
FULL-BODIED WINES:
Cellar Craft Showcase 6 Week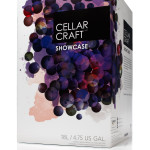 Our most distinctive and unique creations have been selected to carry the Showcase Collection banner.
Many of our wine kits stand apart from our other offerings and have been deemed worthy of Showcase designation. Their distinction may come from breakthrough technology, such as our crushed grape packs, unique regional wines or any wine which we believe reflects a new level of excellence or discovery for the wine hobbyist. The level of excellence may require extra processing steps and, while designed to be bottle-ready in as little as 6 weeks, may require lengthier cellaring time to show at their peak.
REDS 18L KIT | WHITES 16L KIT
REDS

Amarone Style
Argentina Malbec
Barbera Italian
Cabernet Merlot Walla Walla
Cabernet Shiraz Yakima Valley
Carmenere Chilean
Chateau du Pays
Merlot Washington
Mystic California
Rosso Fortissimo
Shiraz Australian
Shiraz South African
Zinfandel Lodi Old Vine

WHITES

Chardonnay Lodi California
Gewürztraminer Riesling Yakima Valley
Gewürztraminer Yakima Valley
Pinot Gris Yakima Valley
Riesling Yakima Valley
Viognier Yakima Valley
Atmosphere 6 week
Accent your everyday with AtmosphereTM.
Good friends. Weekends.  Nice weather. Get-togethers.
Girls night. Outta sight. Pose & click. Posting pics.
Dinner table. Feeling grateful. Generations. Foundations.
Me time. Sublime. Contemplate. Resonate.
Date night. Candlelight. Take out. Make out.
Fancy dress. Wedding guests. I do. Me & you.
Celebrate. Appreciate. Happenstance. Take a chance.
Good times. Great wine.  Any day. My way.
Whatever the mood, no matter the moment, create your own AtmosphereTM.
Each 16L wine kit makes 30, 750 ml bottles of premium wine (23 litres) in 8 weeks.
REDS

Amarone-style, Italy
Cabernet Malbec Carmenere, Chile
Cabernet Sauvignon, Australia
Cabernet Sauvignon, France
Cabernet Shiraz Merlot, Australia
Cabernet Shiraz, Australia
Malbec, Argentina
Merlot, France
Nebbiolo, Italy
Pinot Noir, New Zealand
Sangiovese, Italy
Shiraz, Australia

WHITES

Chardonnay, Australia
Gewürztraminer, Germany
Müller Thurgau, Germany
Pinot Grigio, Italy
Riesling, California
Sauvignon Blanc, New Zealand
Viognier, California
MEDIUM-BODIED WINES:
Cellar Craft Sterling 5 Week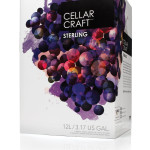 The 12 litre Sterling Collection wine kits produce wines with more pronounced character, more body, and more flavour that you will proudly serve for special meals and to special guests. The reds contain grape skins for true fermented-on-the-skins flavour and aromas. Usually bottled in as little as 5 – 6 weeks. The whites can be enjoyed with only 2-4 weeks of cellaring while the reds will require a few months to show their charm.
REDS

Amarone Style
Barbera
Cabernet Sauvignon, California
Grenache Syrah Mourvédre
Malbec
Malbec Shiraz, California
Merlot, California
Pinot Noir, California
Syrah, California

WHITES

Chardonnay, California
Johannisberg Riesling, California
Pinot Grigio, California
Sauvignon Blanc, California
Traditional Vintage 10L (5 week)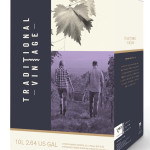 Traditional Vintage from Wine Kitz has a long, proud history of award-winning wines. Inspired by a passion for great wine, each Traditional Vintage kit offers exceptional wine character and taste. Vineyards worldwide are the source of our premium grape juice and grape juice concentrates. From the grapevine to your wine glass, we take the utmost care to ensure that the wine you serve and enjoy with family and friends is the best in its class. Each 10L wine kit makes 30, 750 ml bottles of premium wine (23 litres) in 5 weeks.
   REDS

Argentinian Malbec
Cabernet Merlot
Cabernet Sauvignon
Cabernet Shiraz
Sangiovese
Gamay Bergamais
Merlot
Nebbiola
Pinot Noir
Shiraz
Valroza
Vieux Château du Roi
Australian Cabernet Sauvignon
Australian Shiraz
Australian Cabernet Shiraz

   WHITES

Chardonnay
Gewürztraminer
Liebfraumilch Style
Piesporter Style
Italian Pinot Grigio
Riesling
Sauvignon Blanc
Symphony
Verdicchio
White Zinfandel Blush
Australian Chardonnay
Australian Gewürztraminer
Australian Riesling
LIGHT-BODIED WINES:
European Select 4 Week
European Select™ brings the exhilarating flavours and aromas of Europe's distinguished vineyards to your glass. Made from premium imported grape concentrates, European Select™ has earned a loyal following with its consistent, outstanding quality and unique variety of styles. Complete with everything you need to create a wine of extraordinary character in as little as 28 days. European Select™ will be served proudly to friends and family and will be remembered for years to come.
REDS

Bergamais
Cabernet Sauvignon
Cabernet-Merlot
Merlot
Nebbiiolo
Pinot Noir
Sangiovese (Chianti Style)
Vieux Château du Roi

WHITES

Chardonnay
Pinot Grigio
Riesling
Sauvignon Blanc
Soave Style
Verdicchio
SPECIALTY WINES:
Niagara Mist Fruit Wines 4 Week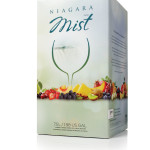 A uniquely refreshing wine beverage with a bold splash of ripe fruit.
The Niagara name has become synonymous with incredible wines and wonderfully tasty fruits. Niagara Mist™ combines famous wine varietals with sassy fruit flavours. These delightfully light and refreshing, exciting combinations are the perfect beverage choice for any occasion.
REDS

Black Cherry Pinot Noir
Blackberry Malbec
Melon Berry
Raspberry Merlot

BLUSH WINES

BluePom White Merlot
Raspberry Dragon Fruit White Shiraz
Stone Fruit
Strawberry White Zinfandel
Wildberry White Zinfandel

WHITES

Green Apple Sauvignon Blanc
Orchard Crisp Riesling
Peach Chardonnay
Tropical Fruit Riesling
White Pear Pinot Grigio

Call or email us today to make your appointment. We look forward to serving you.
————————————————————————————————

DID YOU KNOW?
We carry a full line of beer making kits and equipment. Ask us about enjoying your own frosty, personally crafted and affordable beer!
See our BEER page for more information.